Award Winning Grooming Services
Danielle MacDonald is an IPG, ISCC Certified Master Groomer who provides outstanding, gentle care for every dog. Danielle specializes in designing cute and practical styles that make every pet look and feel their very best. Our state-of-the-art, private studio is nestled in a calm, relaxing setting. Your dog will always leave feeling happy and looking pawsitively fabulous!
​We Treat Every Dog with Love, Respect and Gentle Care.
Appointments are scheduled one-pet-at-a-time. This ensures that your baby will always receive Danielle's personal and undivided attention. We are looking forward to serving you and your dog!
​
The Grooming Experience for Discerning Pet Owners.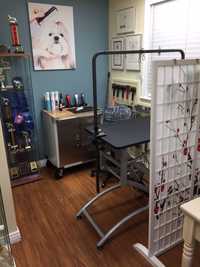 ​Nails, Ears, Bath, Haircut
Oxygen-infused hydro massage bathing
Premium quality products - No budget shampoos!
​Dead Sea Spa Mud Treatments for dry skin.
Every dog is hand dried
All dogs are scissor finished​
Turn around time two hours or less (for most grooms)
​Designer bows, hemmed bandanas
​​​Aromatherapy body spritz
---
​What's an Holistic Dog Groomer? A Certified Master Pet Stylist and more...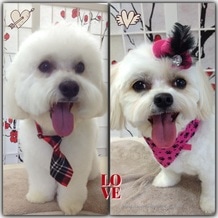 ​​​​​Certified Master Groomer IPG
​Certified Master Pet Stylist ISCC
Society of Holistic Pet Stylists
Dog Grooming Diploma
Certified Animal First-​Aid ​
Animal Massage Therapist
Animal Reflexologist
Pet Care Columnist
Certified Academy Dog Trainer
4x Awarded 'Best Dog Grooming & Service Excellence.'​
​
---
​Are We a Good Fit For You?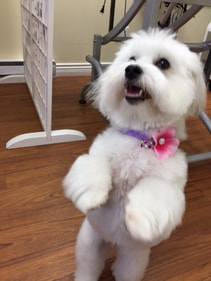 NEW CLIENT QUALIFICATIONS:
Is your dog under twenty pounds?
Do you wish to commit to a two, four or six week grooming schedule?
​Does your dog deserve the best in a fun and safe grooming experience?​ ​​​​
---

Please Note: We Are Not Accepting New Clients.
​
This is
in order to continue to provide one-on-one appointment times, as well as to accommodate the rescheduling needs of current clients.
​If you wish to go on our waiting list, please leave a message. All calls will be returned by the end of the business day.
604-996-1213​
​
---

UPSCALE DOGGY DAYCARE IN THE ZEN LOUNGE
New Client Special Offer! 25% off your first Doggy DayCare stay.
DayCare is limited to two small dogs per day. Call to inquire on availability.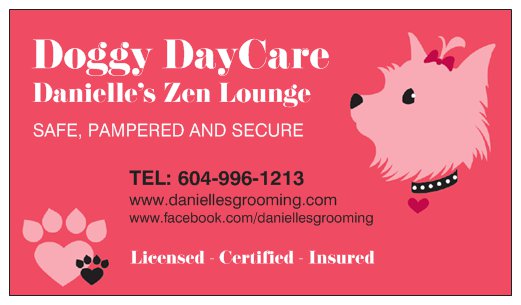 PET PARENTS & HAPPY PETS
PET STYLING BY DANIELLE
BEFORE & AFTERS