Dog Grooming Services
Certified Master Groomer
IPG, ISCC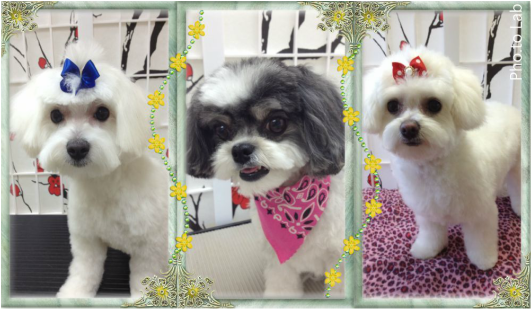 All-Inclusive Grooming Includes:
​Free consultation, detailed records kept & appointment reminder texts
​One-at-a-time appointments
Oxygen-infused bath,with premium shampoos & conditioners
Hand dried, dog's hearing protected
Nail trimming, ear cleaning/flushing​​
Full haircut & hand scissor finish
Aromatherapy spray, bandana/bow
​Wait for parents in the Zen Lounge

​
Haircut Price ​Range: $65 - $85. Prices are based on a two - six week grooming schedule, with no mats. Prices vary based on size, coat condition, special needs & service time. We are only accepting dogs fifteen pounds and under.
​
Pampered Pet Package: optional add-on with any service $15
NAGAYU Japanese Spa CO2 skin therapy treatment
Dead Sea mineral bath & conditioner
​Breath fresh
​
Nail Trimming by appointment:
Clipping . . . $10
Clipping and Diamond buffing . . . $15
---
BLISS Pet Massage ~ Professional Pet Massage Therapy
​Full body or an area-focused massage... $65
Optional add-on: 10 minute mini-massage with any service... $15
---
Puppies to five months old:
Please call to discuss your puppy's first grooming visits.
​#1: Introduction to all tools. Brushed, nails clipped, paws trimmed. Face - if they allow it, and sanitary.
​#2: Bath, blow dry and intro to all tools again. Face, nails, paws, sanitary and tummy.
​#3: Full groom or #2 repeat.


​When your dog's grooming is finished, they will wait for you in the Zen Lounge. Your baby will have their choice of cozy couches, with soft, spa music to listen to and a tv monitor playing a fun, seasonal movie to watch! A trickling, filtered water fountain and organic, grain-free treats to munch on will end their grooming spa visit.
​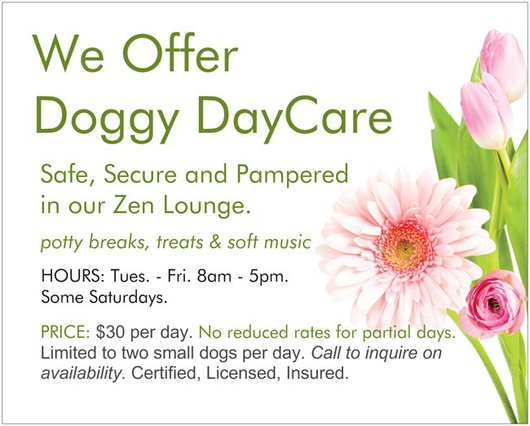 DOG GROOMER CODE OF ETHICS
I Promise to ensure pet styling excellence and quality services. To conduct my business fairly, honestly, and with integrity. To humanely and compassionately care for all animals entrusted to me. To place their welfare above all else. To actively continue my education in the pursuit of continued professional growth.